Mustard Seeds – Third Grade through Fifth Grade youth group
Join us for our OPEN HOUSE event and first Wednesday night meeting of the 2020-2021 year on September 16th at 7:00 pm.
For safety reasons, we will be "gathering" virtually, but that doesn't mean we won't be having a great time! We'll be making new friends and playing games together so mark your calendars and join the fun!
Our first Mustard Seeds meeting will be an open Google Meet video meeting. For security, all future meetings will be by private invitation only. If your child would like to join us at any time, please contact us at MustardSeeds@umcredbank.org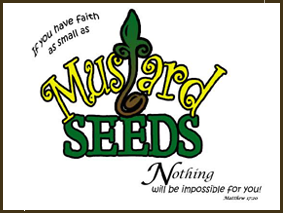 Mustard Seeds
Our Third Grade through Fifth Grade youth group, are exploring God's love through fun and fellowship. We have an awesome time on Wednesday nights playing games, doing crafts, and especially learning how to be good to one and all.
As an added bonus, our group even gets to go on "field trips" throughout the year! For example, we go shopping to get food to donate to families in need, visit the Wesleyan Arms retirement home twice a year to play games with the
seniors, serve the lunch at the annual UMW Bazaar and in addition, participate
in the Youth Sunday service reading the call to worship.
We love to see new faces and welcome you to spend a Wednesday night getting to know us!
Some of Our Events Include:
Thanksgiving Shopping

Wesleyan Arms retirement home visits

UMW Luncheon – serving staff

Youth Sunday