Mustard Seeds – Third Grade through Fifth Grade youth group
Our Mustard Seeds group will be taking a short break from Wednesday evening meetings. We hope to be back together again in January of 2023.
If you have any questions about Mustard Seeds or any of our youth programs, please contact our Director of Children & Youth Ministries, Bonnie Deroski at
bderoski@umcredbank.org
Mustard Seeds leader: Suzanne Stonaker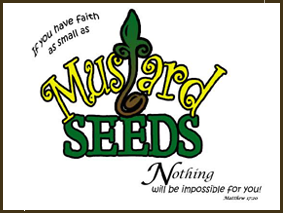 Mustard Seeds
Our Third Grade through Fifth Grade youth group, are exploring God's love through fun and fellowship. We have an awesome time on Wednesday nights playing games, doing crafts, and especially learning how to be good to one and all.
As an added bonus, our group even gets to go on "field trips" throughout the year! For example, we go shopping to get food to donate to families in need, visit the Wesleyan Arms retirement home twice a year to play games with the
seniors, serve the lunch at the annual UMW Bazaar and in addition, participate
in the Youth Sunday service reading the call to worship.
We love to see new faces and welcome you to spend a Wednesday night getting to know us!
Some of Our Events Include:
Thanksgiving Shopping

Wesleyan Arms retirement home visits

UMW Luncheon – serving staff

Youth Sunday