–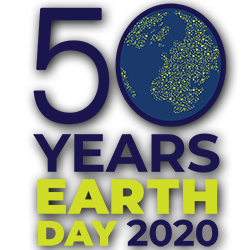 Red Bank United Methodist Church invites you to celebrate the 50th anniversary of Earth Day on April 22, 2020. EARTH DAY began in 1970 because millions of Americans were concerned about how we were treating air, forests, rivers and lakes and the ocean, as well as many species on Earth. We have made great progress over 5 decades through our Clean Water Act, through the Environmental Protection Agency, and through many efforts to reduce pollution and litter and clean up the air we breathe. We continue our efforts now while facing the challenges of climate change and global warming. Where have we been and where will we go as good stewards of Planet Earth?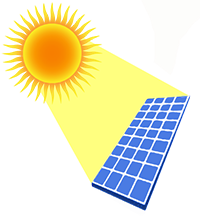 Our Green Faith Certification process began in 2009 with audits of all facets of our faith community – from energy use, to property care, to what we eat and what utensils we use for meals in our church, to concerns about environmental justice, transportation of the many good we buy, the ways we get around transition to clean energy from fossil fuels, and how we treat our fellow humans. All through the last decade we have been actively reducing CO2 in the atmosphere by over 830,000 lbs. and producing nearly half a million Kilowatt hours of electricity since our rooftop solar panel project went active in 2011.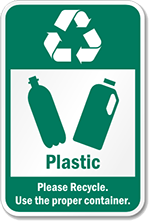 Our UMCRB Green Energy Poster shows our actions since then in many areas of church stewardship and clean energy use. All through April we will focus on our areas of action: Recycling, TREX® Bench Challenge, Solar projects at church and in homes, Green clean vehicles, Gardening at home and with UMW, How and why to follow a plant-based diet, Thriving in Nature, and Understanding Pollinators and how to protect them. Follow our weekly eBlast for activities to do at home or outside, and participate in our virtual Green Fair all month, leading up to Earth Day and beyond. Each of us can do small things, and also work on some large things to help shrink our carbon-footprints on the earth.
CLICK HERE to see our Green Energy Success story!

Please share some of your ways of living as good stewards – on Facebook group "Fellowship Hall" – Please ask questions which our Green Team will try to answer. You can write poems, take photos, sing songs via video, and tell us about your favorite National Park!! Thanks for participating!
– Online Green Event 2020

On November 18, 2012, UMC Red Bank received its certification as a Greenfaith congregation. The church is the first United Methodist Church to receive certification.
Greenfaith is New Jersey's interfaith coalition for the environment, founded in 1992, to inspire, educate, and mobilize people of diverse spiritual backgrounds to rediscover their relationship with the sacred in nature and to restore the earth for future generations through shared beliefs of the world's great religions:
Caring for the earth is a religious value; environmental stewardship is a moral responsibility

We grow spiritually through our relationship with the earth

Everyone has the right to live in a clean, safe environment

People of faith have a vital role to play in restoring healthy ecosystems around the world.
Green Faith certification is designed to help houses of worship from diverse traditions become religious-environmental leaders. The Green Faith certification is the world's first comprehensive interfaith, environmental certification program.
Over two years, participating institutions carry out a range of initiatives to integrate environmental themes into worship, religious education, facility maintenance, and social outreach with the goal of becoming a Green Faith sanctuary.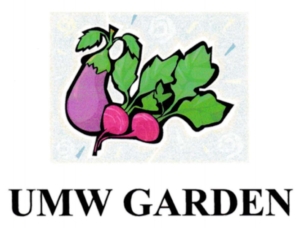 The UMW Garden mission is to grow a variety of vegetables to help serve the needs of Lunch
Break for fresh produce and to share half of the bounty with our congregation.
Each year we have exceeded the previous year in the poundage harvested. Last year we totaled
447 pounds of produce.


Our TREX® Challenge was a great success! We collected over 500 pounds of single stream plastics! We were rewarded for all these efforts with this beautiful TREX® park bench!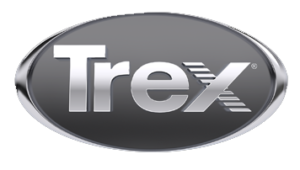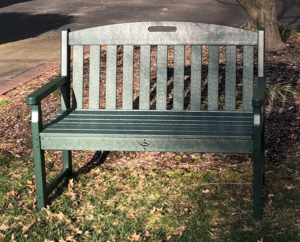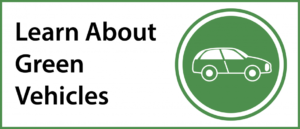 This week we have shared some information on electric and hybrid vehicles from congregation members who are driving them. John Walradt, Bobbie Ridgely, and Michael McGroary are the owner
s of these and we would also like to know if other church members are driving hybrids, electric, or other "green" vehicles. Please check out our church facebook page to make a tally of how many vehicles belong to Red Bank United Methodists!! This would be great to share experiences with each other.
Click Here to read the article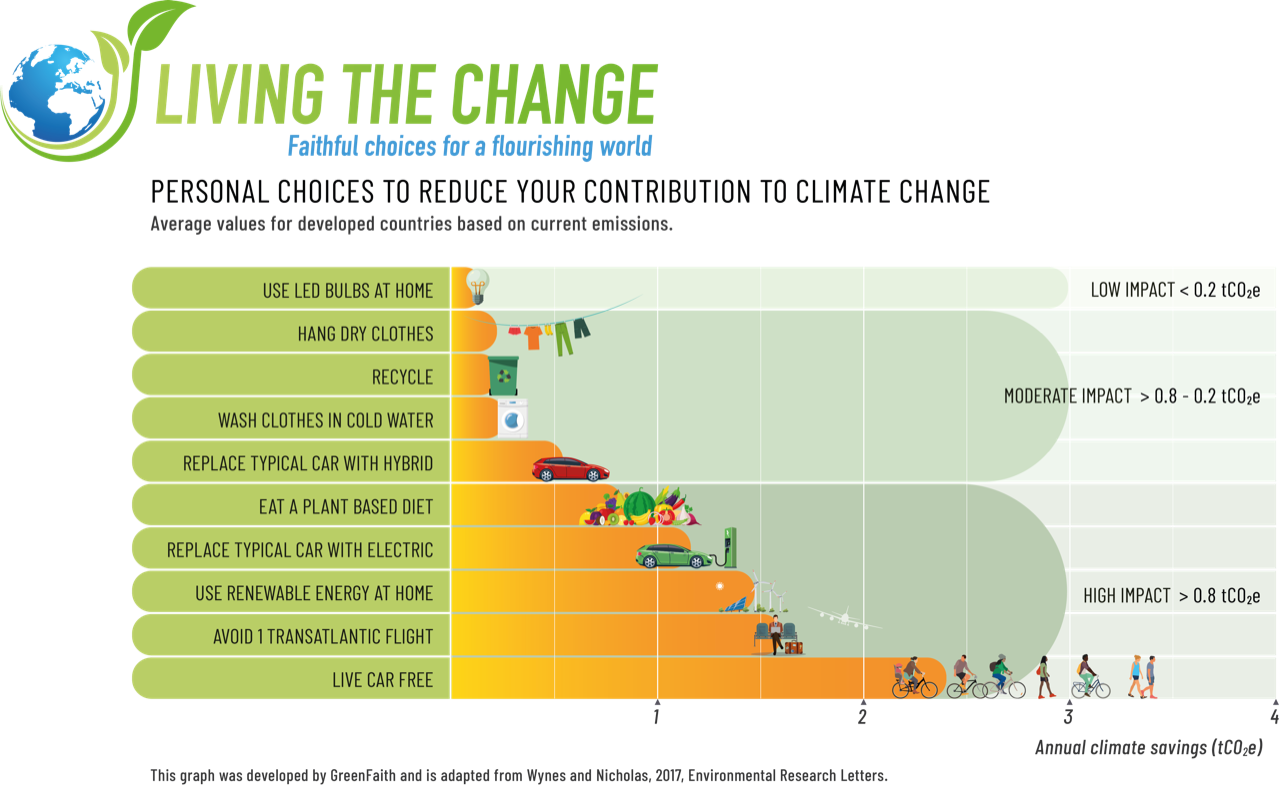 Red Bank UMC Operates on Green Faith: New roof, additional insulation and 205 solar panels power church
By Kristen Dalton
The Hub
March 15, 2012
The United Methodist Church of Red Bank installed 205 solar panels as part of its Green Faith initiative and officially began operating on green energy on Nov. 30, 2010. They're calling it green faith. After more than one year of operating on 205 panels of solar power, the United Methodist Church of Red Bank produced a self-sustaining 57,000 kilowatt hours of energy.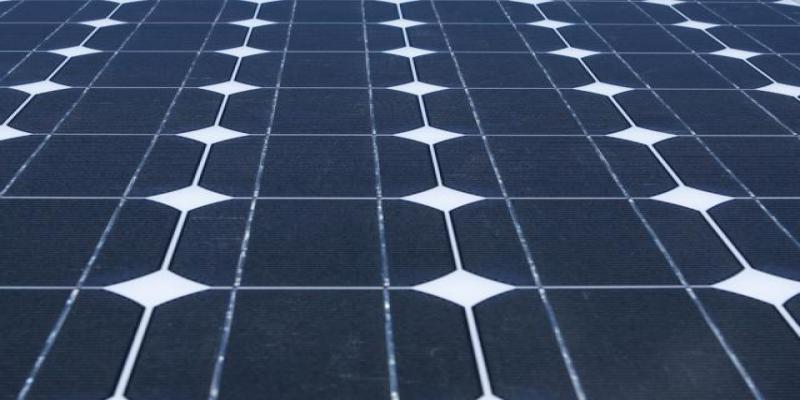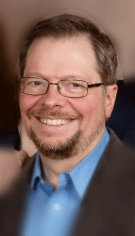 A CONVERSATION WITH KEN GLOSSBRENNER about CITIZENS CLIMATE LOBBY and a special Earth Day #50 Event on April 25th
Citizens Climate Lobby is trying to solve Climate Change through Democracy. Yes, we still believe in Democracy. CCL is a group that lobbies Congress directly. Every year we have the people and the initiative to schedule direct meetings every Senator and every Congressmen in the US Capitol. We do this at least a couple of times a year. We have a plan – placing a price on the cost of greenhouse gases and then giving the revenue directly to people. The people will then likely spend some of that money on less taxing forms of energy. We have a bill before Congress, HR763, that does exactly this. We have helped create a bipartisan Climate Solutions Caucus that now functions in both the House and the Senate. They are working toward exactly this kind of bipartisan solution. We have commissioned economics studies concerning these plans. Even the most cautious of these studies shows the economy BENEFITING for shifting from fossil fuels to renewable. This is not partisan. This is not political. This is "catholic", with a lower case "c".
We educate ourselves. We listen to scientists and economists and sociologists and medical professionals, and we make the best possible decisions based on the available information. And then we lobby. We talk to our Representatives. We listen. We write letters to our newspapers. We enlist the support of local governments and businesses. People understand this problem is too big for individuals and simply at-home remedies. So we are intent on creating collective decisions that will create a permanently sustainable environment.
CCL is still functioning, even in this new world of lockdown. We are meeting virtually. We are lobbying virtually. We are learning from multiple parallels with Covid-19 – the invisibility of the foe, the need to act quickly without perfect knowledge, the need to act cooperatively, the need to listen carefully to experts in all relevant fields, and the need to protect those not yet affected while supporting and healing those who already are. We are in community, protecting each other by actions both individual and collaborative. We are still listening, writing, and still doing all this with the same passionate commitment. This novel coronavirus reminds us the world is too tightly interconnected to ignore issues just because they seemingly have not yet affected us personally.
But unlike the coronavirus, for climate change we already have the solution. We already know what will mitigate the problem. Furthermore, changing our energy economy isn't nearly as painful as maintaining social distance has been. Changing our energy economy would instead probably improve our overall economy. So we know now that we can do this. On the other hand, failing to resolve our climate will have far worse consequences for generations to come. So please join us now. Let's use our connectedness now to immediately perfect the political consensus that will save our collective future.
For more information: contact Ken Glossbrenner at Ken@glossbrenner.us & google cclcommunity@citizensclimate.org
SPECIAL EVENT for EARTH DAY #50
UNITING FROM HOME Event: On Saturday 4/25 from 1-4 pm ET, please join CCL to celebrate the 50th Anniversary of Earth Day. We will hear from climate leaders, learn about quick actions we can take to advocate for climate legislation, and get trained. You can attend this virtual EARTH DAY event from home and bring a friend (virtually) The keynote speaker is Dr. Katharine Hayoe. There is a 2 hr. session for new people on CLIMATE ADVOCATE TRAINING.


MONARCHS AND MILKWEED A SUSTAINABLE CONNECTION!
Why do Monarch butterflies need Milkweed? Well, over many centuries of evolving
into the beautiful orange and black Monarchs who flit from flower to flower in your
summer gardens, these wondrous creatures, only a few ounces in weight, hatch out
of their cocoons which have to be laid on the leaves of native milkweed, which the
catepillars feed on until they hatch one day and fly away. One generation of these
awesome pollinators actually migrates south about 4000 kilometers to Mexico to the
mountains of oyamel fir trees in the state of Michoacan. About 12 years ago I went
with my grandson Jack (22) and my sister and her grandson, Zach, (23) to Mexico
to see hundreds of thousands of Monarchs wintering over up at 10,000 feet, in very
chilly mountain air, huddled together with their wings turned in, so all the trees
looked gray. You can google University of Florida Natural History Museum
Monarch project, or Monarch migration to Mexico, to find out more and to see
photos of this event that occurs annually in the same place. It is a mystery how
these creatures find their way, and then the next generation is hatched on the
northward migration in the spring. But climate issues, poaching of fir trees,
extreme weather, and the lack of milkweed along their migration paths due to mega
farming and destruction of natural hedgerows in huge farms, has led to a 90% drop
in the Monarch population in North and Central America. But the memory of that
trip is forever in my mind and we are helping Live Monarch Foundation in
educating and spreading seeds.
Every year at our Green Fair, we have milkweed seeds to give away, and I hope
some of yours have sprouted in past years, but they are not easy to germinate. This
year I followed directions and chilled seeds in my refrigerator for 30 days in wet
paper towels, to get them started. The McCann boys came over one day several
weeks ago and potted them up into 30 pots with hopes that they would sprout after a
few weeks of watering. Well, now, into the second week of mostly rain and
temperatures in the 40's, none have sprouted, but wait until May, and come get
your pot at church when we can gather again, or get a packet of seeds and
instructions to take home and do it your own way.
Several articles on Monarchs and on pollinators are below. One from Sept. 2019
writes that the Shrewsbury Garden Club is a Monarch Way station, and a member,
Julie Brain, is very involved in raising Monarchs as well. You can contact her at
msjuliebrain@gmail.com
Read MAGNIFICENT MONARCHS, BY Lori Draz
And NATIVE PLANTINGS AND POLLINATORS courtesy of the
Pollinator Partnership/North American Pollinator Protection
Campaign.pollinator.org and advice from the Native Plant Society of NJ.
We also include an Index of Trees that make wonderful hosts for pollinating insects,
if you are working on making your yard friendly to Pollinators. We cannot live
without them.
Janie Schildge –contact me for milkweed seeds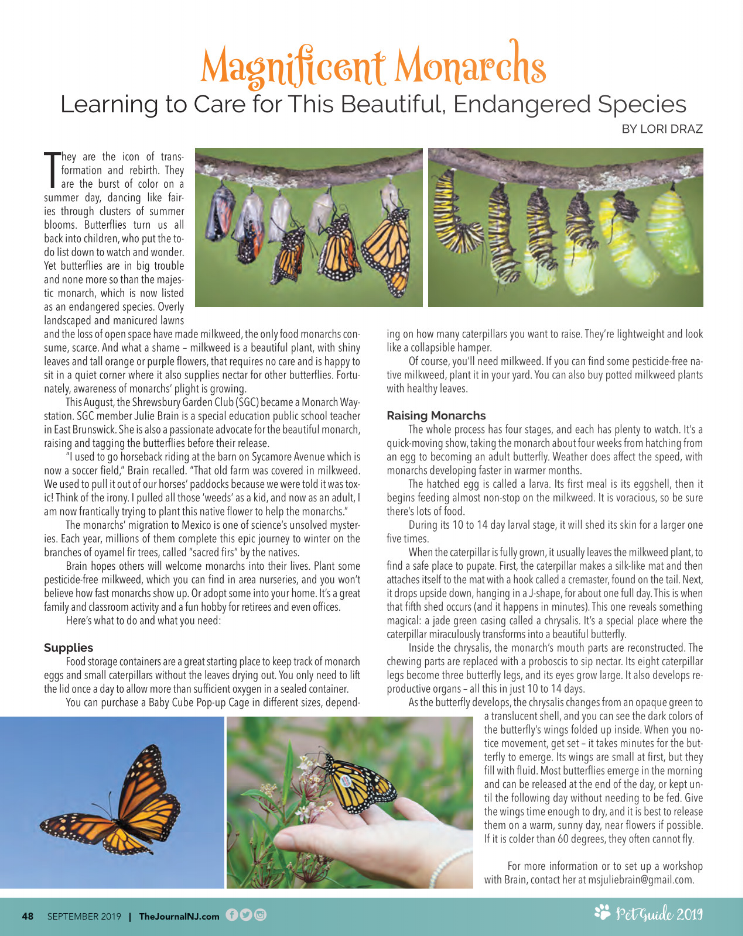 Native Plantings & Pollinators
"A garden is only as rich and beautiful as the integral health of the system; pollinators are
essential to the system – make your home their home."
Derry MacBride, Nat. Affairs & Legislative Chairwoman, Garden Club of America
Gardeners have a wide array of plants to use in their gardens. Native plants, plants introduced
from years of plant exploration from around the world, and plants developed by professional and
amateur breeders can be found in garden centers, in catalogs, and on web-sites. Use your
knowledge of pollinator needs to guide your choices. CLICK HERE for complete article.