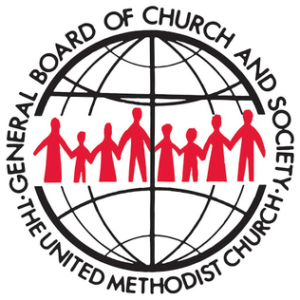 What is Church and Society? For many years our Outreach Committee did a combination of both Mission and Church and Society. As times have changed and the committee became more focused on Mission and Service, it became apparent that Church and Society needed its own committee with new people so we could do twice the amount of work in the community.
In the UMC, there is a Board of Church and Society that gives us some direction as do our Social Principles. We want to look at the big issues in society. It is one thing to feed the hungry, but another to find out WHY people are hungry and what we can do about it. What does the greater church believe? What are the Social Principles? Do we agree or disagree with them? We don't all have to believe the same way, but we want to try to foster respectful discussion.


This past year, besides learning about our Social Principles, we decided to concentrate on 3 areas. Our first was GreenFaith and we had a successful GreenFaith Fair in April. We will continue to address the issues of climate change and our environment. Another was supporting our LGBTQ+ community any way we can. Our third topic is race which really took our focus from June until today. We have been looking at education, advocacy, support, and discussion. Here, we will try to share events and resources with you so you can live out your faith as we work to not only make a difference in the world, but make the world different.
Upcoming Events/Programs
T. Thomas Fortune Cultural Foundation app from the APP Store or Google Play: Red Bank History: learn about Red Bank, its history, and famous people who lived and visited here.
Red Bank Public Library: Feb. 9: 10:30 am: African American Read In Story Time; Feb. 13: 11:30: Race and Diversity Story Time; Feb. 24: 7:00 pm: Let's Talk About Race
Citizens for a Diverse and Open Society: contact Janie Schildge at jschildge@optonline.net to get on the email list.
Environmental Resources: Check out the GreenFaith section of our website under ministries, or CLICK HERE
Reconciling Ministry: Check out the Reconciling section of our website under ministries or CLICK HERE


Racism in Our Society Resources
How to Be an Antiracist by Ibram X. Kendi
Stamped from the Beginning by Ibram X. Kendi
Stamped: Racism, Antiracism, and You by Jason Reynolds and Ibram X. Kendi
White Fragility: Why it's So Hard for White People to Talk About Racism by Robin DiAngelo
Between the World and Me by Ta-Nehisi Coates
Why are All the Black Kids Sitting Together in the Cafeteria? And Other Conversations about Race by Beverley Daniel Tatum
The New Jim Crow: Mass Incarceration in the Age of Colorblindness by Michelle Williams
Me and White Supremacy by Layla F. Saad
So You Want to Talk About Race by Ijeoma Oluo
The Warmth of Other Sons by Isabel Wilkerson
The Underground Railroad by Colson Whitehead
The Nickel Boys by Colson Whitehead
She Came to Slay: The Life and Times of Harriet Tubman by Erica Armstrong Dunbar
Never Caught: the Story of Ona Judge by Erica Armstrong Dunbar
Caste by Isabel Wilkerson
Born a Crime by Trevor Noah
Raising Antiracist Kids: An age by age guide to raising antiracist white children by Rebekkah Gienapp.
Books for Teenagers
Stamped: Racism, Antiracism, and You by Jason Reynolds and Ibram X. Kendi
The Hate You Give by Angie Thomas
Dear Martin by Nic Stone
March Trilogy by John Lewis, Andrew Aydin and Nate Powell
Brown Girl Dreaming by Jacqueline Woodson
Piercing Me Together by Renee Watson
Streetcar to Justice: How Elizabeth Jennings Won the right to Ride in New York by Amy Hill Hearth
The Crossover, Booked, and Rebound by Kwame Alexander
Never Caught: the Story of Ona Judge: Young Reader's Edition by Erica Armstrong Dunbar
A Good Kind of Trouble by Lisa Moore Ramee
Ghost Boys by Jewell Parker Rhodes
Harbor Me by Jacqueline Woodson
Before the Ever After by Jacqueline Woodson
The Stars Beneath Our Feet by David Barclay Moore
King and the Dragonflies by Kacen Callender
Lifting as We Climb: Black Woman's Battle for the Ballot Box by Evette Dionne
Any book by Jason Reynolds
Books by Mildred D. Taylor-including her latest All the Days Past, All the Days to Come
Books for Children
The Undefeated by Kwame Alexander
Lizzie Demands a Seat! Elizabeth Jennings Fights for Streetcar Rights by Beth Anderson
Thurgood by Jonah Winter
Hidden Figures: the True Story of Four Black Women and the Space Race by Margot Lee Shetterly
Memphis, Martin, and the Mountaintop: The Sanitation Strike of 1968 by Alice Fay Duncan
Separate is Never Equal: The Story of Sylvia Mendez and Her Family's Fight for Desegregation by Duncan Tonatiuh
Let the Children March by Monica Clark-Robinson
The Youngest Marcher by Cynthia Levinson
Voice of Freedom: Fannie Lou Hamer: spirit of the civil rights movement by Carole Boston Weatherford
Anti-Racist Baby by Ibram X. Kendi
Woke Baby by Mahogany L. Browne
My Hair is a Garden by Cozbi A. Cabrera
Hair Love by Matthew A. Cherry, book and video Hair Love
I Am Enough and I Believe I Can by Grace Byers
What's the Difference? by Doyin Richards
All Welcome Here by James Preller
Ruth and the Green Book by Calvin Alexander Ramsey with Gwen Strauss
The Day You Begin by Jacqueline Woodson
The King of Kindergarten by Derrick Barnes
Sulwe by Lupita Nyong
Chocolate Milk, Por Favor! By Maria Dismondy
Something Happened in Our Town: A Child's Story About Racial Injustice by Marianne Celano, Marietta Collins, and Ann Hazzard.
More Than Anything Else by Marie Bradby
Pink and Say by Patricia Polacco
Frederick Douglass: The Lion Who Wrote History by Walter Dean Myers
Ida B. Wells: Let the Truth Be Told by Walter Dean Myers
Overground Railroad by Lesa Cline-Ransome
William Still and His Freedom Stories: The Story of the Underground Railroad by Don Tate
Trombone Shorty by Troy "Trombone Shorty" Andrews
The Oldest Student: How Mary Walker Learned to Read by Rita Lorraine Hubbard
Code Talker by Chester Nez
Jimmy Bluefeather by Kim Heacox
Books for Children
An Inuksuk Means Welcome by Mary Wallace
First Laugh: Welcome, Baby! by Rose Ann Tahe and Nancy Bo Flood
Rabbit's Snow Dance as told by James & Joseph Bruchac
Totem Tale: A Tall Story from Alaska by Deb Vanasse
We are Water Protectors by Carole Lindstrom We Are Water Protectors
Separated: Inside an American Tragedy by Jacob Soboroff