Christmas Sunday Worship
Yes, Christmas falls on a Sunday this year! We will be preparing an online service that will be premiering at 10AM on Christmas Morning. This service will be online only. Join us live online or take some time later in the midst of the joyous day to celebrate the birth of hope in Jesus!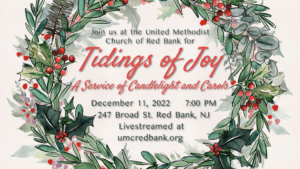 Tidings of Joy: A Service of Candlelight and Carols
Join in the spirit of the season. Lead by Evan Courtney, our Director of Music, featuring music and readings for the Christmas season. We'll sing Christmas Carols as we experience the story of Christmas.
Sunday December 11th @ 7:00pm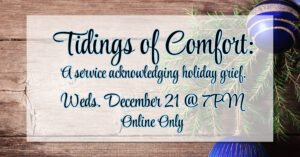 Tidings of Comfort: A service acknowledging holiday grief
For those who are struggling with grief and loss, for those supporting others who are struggling, we offer these tidings of comfort.
Wednesday, December 21 @ 7:00pm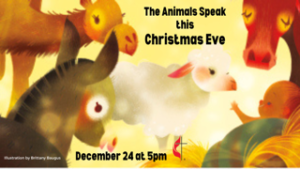 Christmas Eve Family-Oriented Service:
Find yourself in the nativity story, along with a donkey, sheep and camels. We'll learn about the baby born in a stable and sing some Christmas carols together. This service features the talents of youth and children and is interactive and kid-friendly.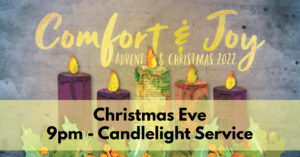 Christmas Eve Traditional Service:
Join us Christmas Eve at 9 pm for our Traditional Candlelight Service. Let the beauty of the season fill you with joy.