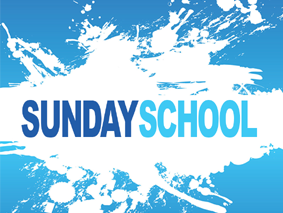 Sunday School at UMC Red Bank
Sunday School is a big part of our youth program. We believe that Christian Education is essential in the lives of our children. To that end, learning how God intends for us to live our lives gives direction and purpose to children as they grow. A strong faith and knowledge of the Bible will help children make healthy choices in their lives.
Schedule
Our formal Sunday School program runs from early September through early June, except for the Nursery which is year round. Summer Children's Church and Vacation Bible School take place only during the summer.
Sunday School
Traditional Sunday school takes place during our 9:30 AM worship service. Children 2-year old through 8th grade attend programming at this time Children first attend the service with their family with the exception of our 6th-8th grade who attend a light breakfast and then split into 6 & 7th grade Sunday school class and our 8th grade Confirmation program. For those younger are called up for the children's message called "Children's Time". After this they leave for their Sunday School classrooms. Parents should pick up their children from their classroom at 10:45 AM. 6th & 7th Grade Sunday School, Confirmation Class and High School teens are encouraged to attend the 11:00 Village Service in Fellowship Hall at 11:00.
Nursery Care
From 9:15 to 12:15 AM, an attended nursery (room 109) for children up to 2 years of age is available. Summer Sunday School: After the children's sermon at our 9:30 AM summer worship service, children in 4 years old to 4th grade leave the sanctuary to attend chapel and summer programming.
Summer Sunday School
After the children's sermon at our 9:30a.m. summer worship service, children in 4th grade and younger leave the sanctuary to attend chapel and a program about a subject chosen for the summer.
Vacation Bible School

This week-long program takes place during the last week in June, running from 9:00 AM to 12:30 PM Monday through Friday. Most noteworthy is a special program celebrating the week which takes place Friday evening. VBS is intended for children 4 years old through 6th grade. Older youth serve as helpers in addition to adult volunteers. This year's program will be To Mars and Beyond where we will Explore Where God's Power Can Take Us!. This year our program will be August 5-9, 2019 | 9:00 AM-12:30 PM. Registration opens April 29th and fills quickly so please sign up ASAP. Registration forms will be at the back door.