COVID Safety Precautions and Plans for Reopening our Building
A Word About Our Reopening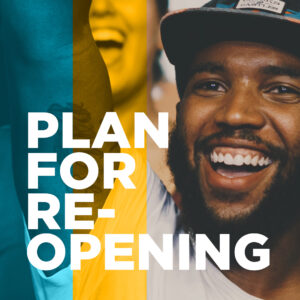 Nearly all of our church related activities and ministries have returned to typical summer operating procedures with just a few exceptions:
You can join our Sunday morning worship at 10:00 am either in person or via live stream. The focus of our worship service continues to be a time of uplifting worship, prayer and beautiful music provided by a soloist. Because this service is multi-age and vaccines are not yet available for everyone, masks are required at this service and some of our regular traditions such as congregational singing, offering collection and bulletin sharing have been modified.

For our youth ministries such as Summer Sunday School and VBS we are following NJ State Guidelines for summer camps which include masks and social distancing since vaccines are not yet available for all age groups.

For day-to-day indoor activities in the building and indoor Adult Small Group activities anyone can wear a mask and masks are strongly encouraged for those who are not yet vaccinated.

In multi-age outdoor gatherings we are still social distancing, again because vaccines are not available for all, but masks are not required.

If you are visiting our church for a funeral service that is open to the public, we will be following the same guidelines as those used for worship.

If you are visiting our church for a wedding by invitation, the guidelines for masking will be determined by the couple who is being married.

We are anticipating offering space for community partner meetings again soon. So check back regularly for updates.

SAFETY & EXTRA FACILITY PRECAUTIONS FOR GATHERING INDOORS:
There are a number of actions we are taking to make our space safer during this time of COVID: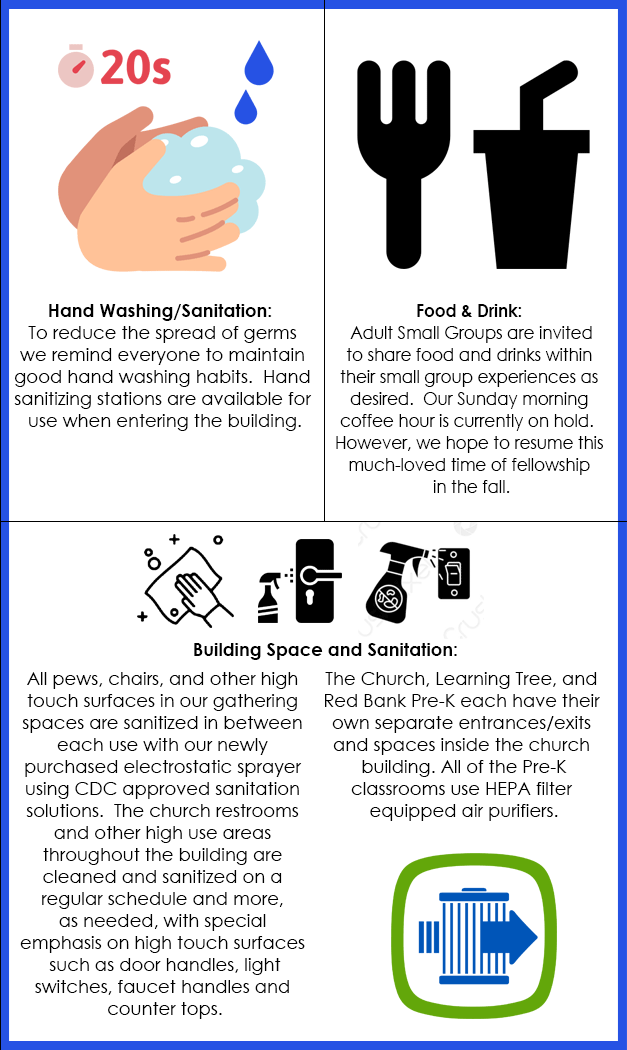 Our Church Building is Re-opening in Phases.
Read Below to Learn More:
Phase 1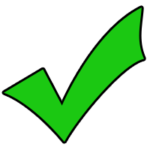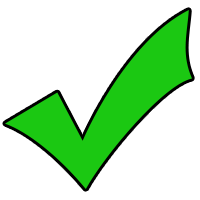 Phase 1 is complete. During this phase we opened the building for Critical Staff and Volunteers and created an outdoor meeting space for church, small group gatherings.

Phase 2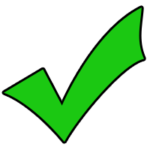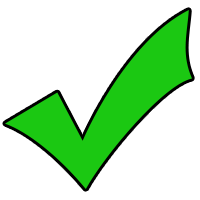 Phase 2 is complete. This phase focused on reorganizing our building space so that the Church, Learning Tree, and Red Bank Pre-K each have separate entrances/exits. A space use plan was approved by Church Council at the July 27, 2020 meeting. For security reasons this plan is not posted on the website.

Phase 3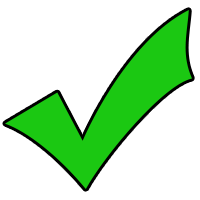 Phase 3 is complete. During this phase we opened the building for church sponsored small group meetings.

Phase 4 is nearly complete: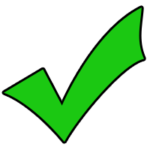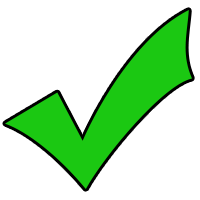 Special Services such as Baptisms, Weddings, and Funerals may be scheduled with our Pastor.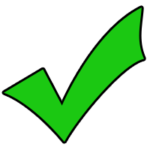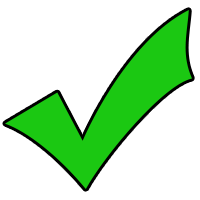 Sunday Morning Worship–In Person and Live Stream at 10:00 am
Summer Sunday School – Starting June 20, 2021

Youth Group – Expected to resume in the fall

Phase 5 is still in planning and will address:
Church Administrative Meetings (such as Church Council, Trustees, etc.)

Small Group Community Partner Meetings

Large Group Community Partner Meetings