Ministry and Service in Red Bank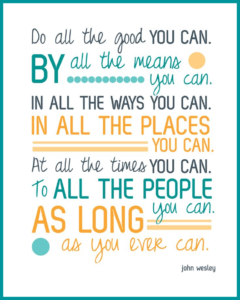 Mission and Service
The Red Bank United Methodist Church has been active in ministry and service in Red Bank for over 150 years, having been founded in 1850. Also, we have faithfully supported efforts of the Red Bank Ministerium and many of the social service programs of the municipality.

Over the years, our pastors have led efforts of ecumenical support and interfaith community ministry programs such as Martin Luther King services, and interfaith dialog when problems arise.
Our faith roots come from the Wesleyan tradition of mission and outreach. John Wesley called for us to express God's love through good works. As a result, this simple rule has been a recipe for ministry: "Do all the good you can by all the means you can in all the ways you can at all the times you can to all the people you can as long as ever you can."

Recognizing the need for low-cost housing in our area, our church teamed with the AME Zion Church on Shrewsbury Avenue and the United Methodist Homes to build and operate the Wesleyan Arms Apartments at 9 Wall Street in Red Bank. The result was a facility providing low cost and subsidized apartments to qualifying senior citizens under HUD guidelines.
Programs and Volunteerism
Our local outreach budget supports programs with money and volunteers. Over the last ten years we have given more than $70,000 in line item donations to programs including:
Red Bank Senior Center/

Fire Department/

First Aid/

YMCA

Red Bank Drug Prevention

Aslan

Monmouth Day Care Center

Lunch Break

Count Basie Learning Center

Parker Clinic

Habcore

FISH.
Other donations throughout the years include Advent Option giving, and our leadership role in CROP Walk for the Hungry. Plus, the United Methodist church of Red Bank raises the largest amount of money of all the 65-70 faith groups participating in the CROP Walk.
Mission and Service Efforts
We were blessed to financially support the following organizations:
Monmouth Day Care Center

Crop Walk

Serenity Stables from Combat to Calm

Mary's Place by the Sea

Family Promise

The Source

Interfaith Neighbors

The Center in Asbury Park

Habcore

Parker Family Health Center

Habitat for Humanity in Monmouth Co

Pilgrim Baptist Church (Code Blue)

No Limits Cafe

UMCOR

Our missionaries (Kabaka)

More 2021 Accomplishments
We shared videos on many of these organizations to share their missions.

We finished our children's book collection that was cut short in 2020 and delivered them to Bridge of Books.

We assembled and sent out 100 hygiene kits.

4 of us volunteered with Oasis TLC and helped clean out their gardens.

We collected laundry detergent, toiletries and Easter candy for Family Promise families.

We had a successful Advent Options and raised over $4,000 for No Limits Cafe, Family Promise and UMCOR Tornado Relief.

Helping Hands Both Near and Far
Every spring we organize a work camp at local ministry locations, when volunteers go out for the day to organize kitchens, clean up yards, sort food pantries, and clean stoves and floors.
We have a monthly food collection which goes to meet the growing demand in our area.
Our Vacation Bible School has raised funds for projects such as Habitat for Humanity, and our church is a member of the Red Bank Coalition for Habitat for Humanity, helping to construct homes at 60 Leighton Avenue and Bank Street in Red Bank.
Many members of our church are active volunteers on an individual basis, and once a month we have sent a team of workers to Lunch Break for most of its 20 years of existence.
Along with our monetary support, our Learning Tree Nursery School does projects for Habcore House on Pearl Street, and a loyal group of volunteers helps with Interfaith Hospitality Network hosting of homeless families. We truly believe in reaching out in God's love to our less fortunate neighbors so that all of us can live better lives in harmony with one another.