Vacation Bible School (VBS) at the United Methodist Church of Red Bank

Come join us during the last week of June for five days of fun and sun at our Vacation Bible School! Our theme changes each year so be sure to check back as we get closer to our June date to see what we will have next!

Here is a sample of the program we ran in 2017, "Hero Central." See below for a contact form if you have any questions for us.

Take a Leap of Faith!
You Have the Power!

Hey Kids! Join us on an awesome adventure alongside some of your favorite Bible heroes and discover the qualities that make us truly heroic in God. The United Methodist Church of Red Bank's 2017 VBS program is Hero Central and uses epic music, spectacular science, crafty crafts, heroic recreation, and fantastic Bible stories to us discover our strength in God!
God's Heroes have Heart, Courage, Wisdom, Hope and Power!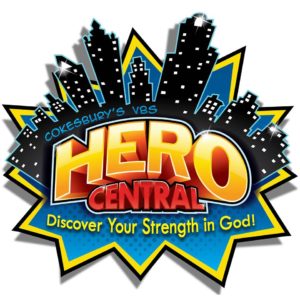 Our VBS Program runs from Monday June 26th through Friday June 30. We start at 9:00am and finish up at 12:30pm. We learn about a Hero from the bible, make a cool craft, learn some new songs, have yummy healthy snacks, time for fun in the sun and some splashing too! On Friday we have a great big Hero-Sized celebration for parents to see a video of our week and hear the awesome songs we all learned! Please contact Elaine Dawson, our Youth Program Minister if you wish to sign your child up. Youth from 4 years old up to entering 6th grade are welcome!