37th Crop Walk October 15th, 2017
Red Bank CROP Walk is the most active and successful CROP Hunger Walk in the NJ/NY region. It had its start in 1981 and has grown to include many communities throughout Monmouth County. Red Bank is the 5th largest (of nearly 1200) CROP Hunger Walk in the country. Together to take a stand against hunger in our world by raising funds to support 15 local partner programs and national/global programs through Church World Service. Contact: redbankcropwalk@gmail.com Janie Schildge – Walk Coordinator We have an adult coordinating committee and a teen leaders committee with student representatives from area high schools. Both committees work to increase awareness and increase participation in our hunger walk. We welcome you to join our circle of caring. Volunteers, sponsors, walkers, donors…all are welcome to walk with us to end hunger.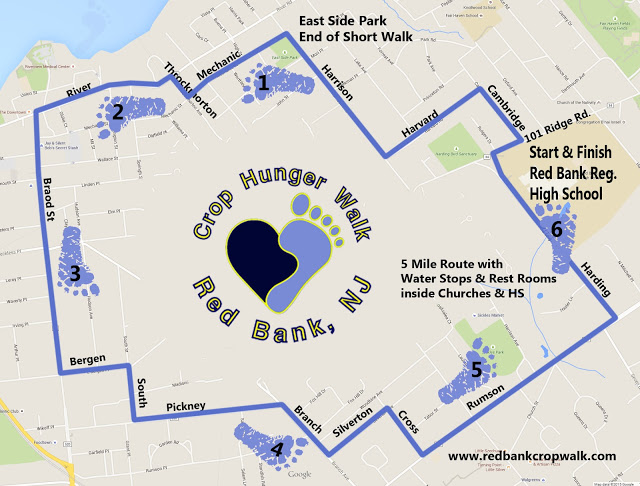 Kim Smith
Return unused materials, signs
22 Browns Lane Fair Haven, NJ 07704
PH #732-530-7718
Email Kimmy195911@aol.com
5 mile walk, level, and mostly on sidewalks

5 water stops along the route and at the finish

Restrooms at churches and Red Bank Reg. HS

Van for tired walkers donated: Red Bank Senior Center

Short walk ends at East Side Park.
*Crossing guards and safety monitors along the way!