Sermon Series – Three Simple Rules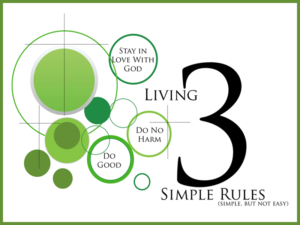 Three Simple Rules
In our overly complex world, it is important to come back to the basics, to the heart of our faith to discover again what it looks like to live out our beliefs. The founder of our denomination, John Wesley wrote about three simple rules that help people apply their faith to everyday life, and not only live in a way that honors God, but encourages continual growth and development of our faith. Join us in worship as we explore how we can live into these three simple rules: Do no harm, Do good, and Stay in love with God.
7/21/2019 | Do No Harm
Often we think that faithful living starts with what WE DO… but John Wesley began the Simple Rules instead with what we refrain from doing. Our first call is to AVOID doing harm to others. This ground rule helps us remember how interconnected we are with everyone, and how our actions and inactions have dramatic impact on the lives of others.
Gal 5:15 – If, however, you bite and devour one another, take care that you are not consumed by one another.
Romans 13: 8-10 – Owe no one anything, except to love one another; for the one who loves another has fulfilled the law. The commandments, "You shall not commit adultery; You shall not murder; You shall not steal; You shall not covet"; and any other commandment, are summed up in this word, "Love your neighbor as yourself." Love does no wrong to a neighbor; therefore, love is the fulfilling of the law.
7/28/2019 | Do Good
The second simple rule focuses attention on our choices and actions of intentionally DOING GOOD to others. This is not simply referring to "random acts of kindness," or "paying it forward," but of attuning one's heart and life to what God would have us do to increase the greater good of all.
3 John 1:11 – Beloved, do not imitate what is evil but imitate what is good. Whoever does good is from God; whoever does evil has not seen God.
Matthew 5:43-45 – "You have heard that it was said, 'You shall love your neighbor and hate your enemy.' But I say to you, Love your enemies and pray for those who persecute you, so that you may be children of your Father in heaven; for he makes his sun rise on the evil and on the good, and sends rain on the righteous and on the unrighteous."
8/4/2019 | Stay in Love with God
The heart of this simple rule is to always continuing growing in your relationship with God, whether that be through reading scripture, praying, corporate worship, conversations with others about your faith, or acts of service. Staying connected to the source of our faith and strength will help fuel us as we continue to Do No Harm and Do Good.
Colossians 2:6-7 – As you therefore have received Christ Jesus the Lord, continue to live your lives in him, rooted and built up in him and established in the faith, just as you were taught, abounding in thanksgiving.
Jeremiah 17:7-8 – Blessed are those who trust in the Lord, whose trust is the Lord. They shall be like a tree planted by water, sending out its roots by the stream. It shall not fear when heat comes, and its leaves shall stay green; in the year of drought it is not anxious, and it does not cease to bear fruit.