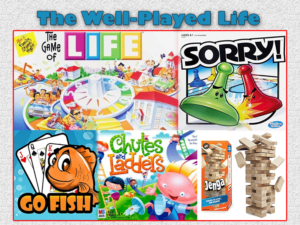 What does it mean to live a life of meaning and consequence while maintaining a sense of adventure and playfulness? So much of our lives are consumed by drudgery and competition, where we live for our resume rather than our eulogy.
So how can we do our life's work more playfully, without taking ourselves too seriously? What does it mean to live well, and to finish well?
6/16 – The Importance of Play
The Game of Life –
Luke 12:13-21
The games we play as children can sometimes sneak their way into our real life without us realizing it. In this childhood favorite, the goals and objectives are about making the most money, buying the biggest house, and retiring with the most accumulated value. Instead of living blindly by these worldly rules, we turn to Jesus' message and look at how they shift our intentions and objectives in life.
6/23 – Chutes and Ladders
Psalm 37:23 and 2 Cor 4:7-18
In our contemporary world that is full of corporate and social ladders, we know the anxiety we all share about making mistakes. We live with a fear of losing our places and backsliding, only to have to start at the beginning again. Into this common experience, we lift up Paul's experience and letter to the early church in Corinth, recognizing that even when we are persecuted and struck down, we are not destroyed. We draw our strength and hope from Christ who lives within us and calls us to live a resurrection life.
6/30 – Sorry!
Matthew 18:21-35
I'm sorry! We say it so often in our day to day interactions, but do we really mean it? What would it look like if every time we said it, we really meant it and lived it out? I've heard it said that "Apologizing indicates an intention to change one's behavior." We don't really see this in the game, otherwise you would never win…
7/7 –– Go Fish – Rev. Gina Hendrickson
Luke 15:1-10
For so many, the journey of faith is like the game of hide and seek… us searching for God, seeking out an understanding of God and our purpose in this life, while at the same time turning away and hiding our hearts from God, others, and sometimes even ourselves. Jesus reminds of God's persistence in seeking out the lost, and of our call to join in with this work of welcoming the seekers.
7/14 – Giant Jenga: Living with a Beautiful Mess
We live our lives by subtraction and addition, building on to a semi-stable base of our past experiences. How can we see the fullness of our hurts and mistakes, as well as our joys and blessings, and build into the future with strength and purpose