Not Your Mama's Church,But it Feels Like Home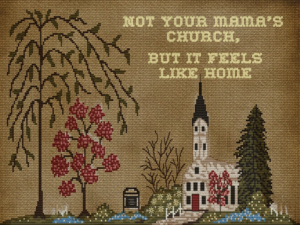 Jesus taught that the greatest of all the religious instructions, rules, or regulations was two-fold: love God and love your neighbor as yourself. In the UMC of Red Bank, we ground everything we do in these two – not just a love that comes from our heart, but one that extends out in tangible ways through our words, actions, and relationships with others. This love-centered faith is reflected in all aspects of our life, and impacts how we as individuals and families plan our calendar, spend our money, serve our neighbors, and interact with others in and outside the church. As we ask you to reflect on and grow your faith through generosity this year, we invite you to hear from some of the people in our congregation about what makes our church unique, what they experience here at UMCRB, and why they are so committed to contributing time, talent, and treasure to support God's work in and through the church. It is my prayer that the gifts we bring, of muscle, mind, money, and community, come together to transform religion into love, drawing us closer to God and one another, and empowering us to love and serve our neighbors. Amen.
10/6 – Not Your Mama's Church but It Feels Like Home
Church, and really any institution, is not what is was back 30-40 years ago in the heyday of "joining." People flocked to church because it was the thing to do… it was expected… for some, it was an obligation. The same cannot be said for our culture today. Rather than obligation, people choose whether to participate in church, and at what level. This is both a blessing and a challenge because it means that people WANT to be here and are more invested in the work of the church, but it also means limited resources of people and finances in order to see it accomplished. What is it about this church that makes you CHOOSE to participate?
10/13 – Light in the World
With the passage of time, some things change, but others remain the same. While the world around us might be struggling with different social pressures, economic hardships, and humanitarian struggles than it was 30-40 years ago, the world is still a mess, in deep need of the work of the church. Jesus called us the Light of the World and urged us to not hide our lights away, but to raise them up for all to see. Today, the church is needed as much as ever to shine the light of hope and love into a broken and hurting world. How do we make that happen in and through our church?
10/20 – Challenges/reality for the church in the 21st century
Social media, division and hatred, distrust of the institution, incredible pressure and stress… Sound familiar? Our culture today is overworked, over-stressed, and incredibly divided. How are we called to be the church of love, tearing down the walls that keep us from deep and meaningful connections with others? Song possibility: Christ has Broken Down the Walls
10/27 – Celebrating a Diversity of Gifts
There is much work to be done in and through the church, and it is only together that we can hope to accomplish it all. And there are different gifts and resources that are needed. This is good news because we are all different and have different skills and gifts to offer. On this day when we consecrate and bless the gifts and offer our commitment for giving in the upcoming year, we celebrate the prayers, presence, gifts, service, and witness that are needed and offered here in order to do God's work at UMCRB.