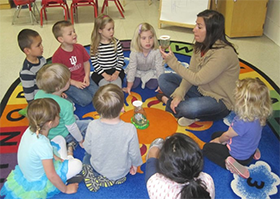 Children at Learning Tree are encouraged to learn by doing. The curriculum is planned by the creative and dedicated professionals on staff. Emphasis is placed on the actual process rather than the finished product. Children experience the fun of learning by participating in activities designed to stimulate growth in a wide range of areas, including social and cognitive development and gross and fine motor skills.
CLICK HERE or click our logo above to visit our website!
Learning Tree Preschool is a non-profit, integrated auxiliary of the United Methodist Church of Red Bank. We are an Early Childhood Learning Center licensed by the State of New Jersey, Department of Human Services, and Bureau of Licensing. Learning Tree Preschool does not discriminate on the basis of race, gender, religion, age, or disability in the processes of admissions, educational programs or employment.